SensoryScent produce a range of reliable, affordable scent delivery systems with a huge range of preformulated fragrances to choose from.
Our scent specialists can also produce bespoke scents to suit your needs and will work with you to create the aroma that you want, however large or small your project is. Complementing our range of off the shelf scents, is our wide variety of scent nebulising machines. Scents can be used to stimulate memory and bring past experiences to life, create pleasantly smelling working environments or do something as simple as add realism and special effects to a history lesson. From simple canister based scents for that quick and instant burst, to a multi aroma vaporising scent machine for constant delivery - we have the solution for you.
---
Control systems
Our scent machines are available with a wide range of control options. For basic operation, always on or simple controls such as push buttons or timers can be used, whereas some customers require more advanced control such as sensors or integration with existing control systems such as DMX or serial interface or even bespoke software development.
Our in-house hardware and software development teams are able to create control systems to suit your needs - call us with your requirements and we'll be happy to discuss them.





---
Bespoke projects
SensoryScent have worked on many bespoke projects - including both retail and marketing applications, including mobile systems for use in vehicles, kiosks for perfume retail applications and even a scent globe which was used to deliver aromas from around the world for the opening of the new Heathrow Airport terminal 2 (pictured here).
Our flexible scent delivery systems allow us to offer a range of options from push-buttons for installed/kiosk type applications, IPAD or tablet control for manual operation or automate the delivery of scent completely using simple timers or more advanced control systems.
If you're a solution provider or integrator looking to add scent to your products, our software development kit will make integration easy.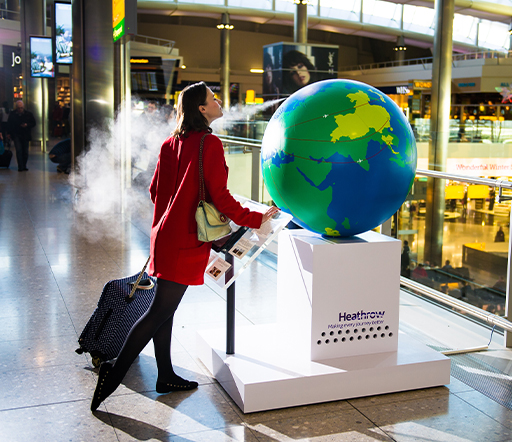 ---
What our customers say...
"A friendly team who are clear about pricing. Technicians who visited the school are patient and clear in explaining the system and understanding the needs of schools."

Patricia Dee, CofE School of the Resurrection
"Installation went brilliantly yesterday and we are extremely happy with the system. I couldn't praise Matt and Graeme enough, they were extremely helpful and accommodating in giving us their time to train our staff. Overall we were extremely pleased with the service that we have received from yourself and everyone at Osborne Technologies and I would recommend your company to anyone without any hesitation."

Ross Griffiths, School Business Manager, Harvills Hawthorn Primary School
"OFSTED stated that the school has very well-developed systems for safeguarding pupils and I have no doubt that EntrySign played a major role in this judgement."

Ian Goddard, Dodworth St. John's Primary